SUSTAINABILITY

Employee Relations
Promoting Diversity and Inclusion
Diversity and Work-Life Balance Declaration
We hereby declare our commitment to achieving diversity and work-life balance for our employees

At Lawson, diversity is part of our business strategy. Our goal is for employees with diverse values to come together to exert their maximum power as a whole, strengthening our chain even further.
For a diverse body of employees to exert their full potential, it is important to standardize our operational mechanisms so that everyone can do their job. To make this possible, we are in the process of "companywide operational reform," eliminating waste and redundancy from our operations. We take this reform very seriously – once our operations are streamlined and our staff are able to accomplish their work at a high standard within the designated time, it will then be possible for our employees to achieve a harmonious balance between work and daily living, and for a diverse workforce to exert their full potential in their respective areas.
Sadanobu Takemasu


President and CEO
Representative Director
Chairman of the Board
Diversity Policy
"Creating Happiness and Harmony in Our Community." This is Lawson's Group Philosophy. It means contributing to our communities and bringing happiness and harmony to both communities and ourselves by embracing the diversity around us and creating products and services that meet the needs of changing environments.
Differences in personal background, including gender, nationality, age, and type of employment, lead to varying perspectives among individuals and within society.
To achieve growth as a member of the global community and enhance our corporate value, we must work with diverse individuals in Japan and around the world.
To spark innovation and increase our corporate value, we are committed to discarding stereotypes and prejudices and maximizing the abilities and potential of all employees, including women and foreign nationals.
This is our understanding of diversity.
Diversity is one of the essential strengths that drive Lawson's growth. We will continue to actively promote and embrace diversity in our workplace and in our communities.
Framework for Promoting Diversity
An officer in charge of diversity promotion reporting to the President and CEO cooperates with the Human Resources Division in promoting the design, operation and arrangement of necessary programs.
The Marketing Division draws on input from female employees, moreover, to conduct marketing aimed at creating new business value.

Elected leaders representing Lawson's business areas nationwide also attend regular meetings of the Genki Leader Committee, which is organized to promote diversity, revitalize internal communications and promote employee health.
Recruitment of Diverse Human Resources
Recruitment Policy
In hiring human resources, in accordance with the Lawson Group Human Rights Policy, we place importance on the aptitude, motivation and ability of each individual, regardless of gender, nationality, age, educational background or origin.
Active Recruitment of Female Employees
We have been actively recruiting female employees since 2005 with the goal of achieving a 30% ratio of female employees by 2030, and are continuing our efforts to achieve a 50% ratio of male and female new graduates. 19.7% of our employees were female as of the end of fiscal 2020.
Active Recruitment of Non-Japanese Employees
We started actively recruiting non-Japanese employees in 2008. Since then, we have been hiring new graduates with a target of 10-20% non-Japanese employees, and more than 150 non-Japanese employees are already working in the company.
Promoting Hiring of People with Disabilities
Lawson Will, Inc. was established to employ persons with disabilities (officially registered as a special subsidiary1 on January 31, 2013). Lawson Will has employees with disabilities who perform commissioned work for the Group. These employees currently work in offices, perform light duties in warehouses and stores, contribute to commissioned bakery operations at the NATURAL LAWSON Shibaura Kaigan Dori store in Minato-ku, Tokyo, and take part in other operations.
The Group hiring ratio of persons with disabilities2 stands at 2.25% (as of the end of February 2021).
Offering a work environment and opportunities to persons with disabilities who have the will and capability to work is part of Lawson's corporate mission. We will continue to implement measures to promote diversity within our organization.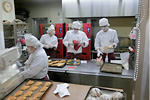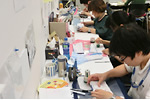 Notes :

1.

Special subsidiary: A company with certification from the national government in special consideration of the hiring of people with disabilities.
Laborers employed at a special subsidiary may be regarded as hired by the parent company and included in calculation of the parent's (or group's) hiring ratio of persons with disabilities.

2.

The Group hiring ratio of persons with disabilities is calculated based on the total number of employees of Lawson, Inc., Lawson Will, Inc., Lawson Entertainment, Inc., and Lawson Store 100, Inc.
Lawson Will, Inc.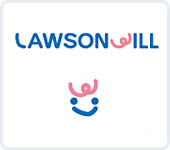 | | |
| --- | --- |
| Capital | 10 million yen |
| Location | 11-2, Osaki 1-chome, Shinagawa-ku, Tokyo 141-8643, Japan |
| Established | August 1, 2012 |
| Employees | 47 (including 46 persons with disabilities) |
| Business activities | Accepts work from other Group companies on commission |
Creating an Environment in which Diverse Human Resources Can Work in Comfort
Conducting Employee Awareness Surveys
Once a year, we conduct an employee awareness survey to find out about how we can make our workplace more comfortable and rewarding to work in.
Based on the survey results, we create a chart for each organization and provide feedback to promote improvements in the workplace environment and management. We also use the results to examine various measures and systems to enhance the job satisfaction of our employees.
Sharing of Messages from Top Management
At company-wide meetings and other events, top management shares and disseminates information on health management, the improvement of work efficiency, and the reduction of long working hours to all employees under the catchphrase of "working cheerfully and happily with lively, positive energy."
Holding of Lawson Lively Link, a cross-departmental online seminar
Lawson Lively Link, a cross-departmental online seminar for all employees, is held twice a month with the aim of stimulating internal communication and employee career development. Department introductions and study sessions are held mainly in departments at headquarters to deepen employees' understanding of the company and promote vertical, horizontal, and diagonal communication.

Job Satisfaction Reform Project
We have launched the Job Satisfaction Reform Project with the aim of creating a company where employees can continue to work with satisfaction. The members are recruited from within the company, and the activities are based on employee participation. We are considering and implementing a variety of initiatives to enable employees to continue working while experiencing vigorous growth, including the establishment of new challenge goals, promotion of digital transformation, measures to revitalize communication, and measures to improve work efficiency.
Personnel Data
FY2016
FY2017
FY2018
FY2019
FY2020
Number of employees (non-consolidated) (Numbers)*1
4,261
4,470
4,586
4,631
4,790
(Men/Women) (Numbers)
3,573/688
3,714/756
3,763/823
3,749/882
3,847/943
Ratio of female employees (%)
16.1
16.9
17.9
19.0
19.7
New graduates hired (Numbers)
174
209
187
225
221
(Men/Women) (Numbers)
95/79
115/94
109/78
125/100
122/99
Ratio of women among managers (%)
7.93
8.30
9.50
10.10
10.70
Number of employees who took maternity leave (Numbers)
31
42
40
35
20
Number of employees who took childcare leave (Numbers)
128
152
165
183
162
(Men/Women) (Numbers)
94/34
109/43
112/53
136/47
117/45
Number of employees who used the reduced working hours for childcare system (Numbers)
76
84
74
87
73
Home teleworkers (Numbers)*2
18
15
24
23
1,547
Number of employees who took nursing care leave (Numbers)
1
2
1
1
1
Average monthly overtime hours
9.74
9.90
11.20
10.70
9.40
Utilization rate of paid vacation (%)
36.2
42.7
40.9
53.4
54.2
Average age (years)
39.7
39.4
39.4
40.4
40.2
Average years of service (year)
12.3
12.5
12.8
13.7
13.6
(Men/Women) (year)
13.3/7.3
13.6/7.5
13.9/7.6
15.0/8.0
15.0/8.1
Turnover rate (%)
6.2
7.4
6.7
8.4
6.3
Number of employees leaving the company (persons)
171
243
309
388
301
Percentage of employees with disabilities (%)*3
2.00
1.90
2.24
2.15
2.25
Starting salary (yen)*4
-
-
-
-
University:
211,000 yen
(monthly salary)
Graduate school:
224,620 yen
(monthly salary)
Notes :

1.

The number of employees (non-consolidated) is the total number of employees - (seconded to affiliates, accepted seconded to affiliates, and FOI*)

2.

Remote work system for all employees was introduced in September 2020. The number of employees is the number of people who applied to use the system in September 2020.

3.

The employment rate of people with disabilities is based on the Group total (Lawson, Inc., Lawsonwill, Inc., Lawson Entertainment, Inc. and Lawson Store 100, Inc.) and employment contracts.

4.

For those living in the 23 wards of Tokyo. Other amounts may vary depending on work location, residence, etc.

*FOI: Abbreviation for "FC Owner Intern," a contract employee hired on the premise of opening a franchise store independently