SUSTAINABILITY

Community Relations
Supporting Safety and Security in the Community
We are leveraging our nationwide network of stores in 47 prefectures to provide essential services to our customers in their daily lives, and to create stores that offer peace of mind to a wide range of customers.
Participation in Safety Station activities
In recent years, convenience stores have been called upon to meet a variety of social needs, including crime and disaster prevention measures, safety measures, and the sound upbringing of young people.
In order to meet these needs, the Lawson Group actively participates in the Japan Franchise Association's Safety Station activities (SS activities), and we are promoting cooperation in building a safe and secure community and efforts to improve the environment for young people. We also take special measures to prevent robbery and fraud, and we respond to the rush of groups of people such as women, children and elderly guardians. As a result of Lawson's ongoing efforts in this area, the number of cases of fraud prevention recognized by the police within its stores in fiscal year 2021 reached 923.
●Lawson's Safety Station activity data for 2021*
| | | |
| --- | --- | --- |
| Women's last minute rush | 1,340 stores | More than 1,985 times |
| Children's last minute rush | 715 stores | More than 1,029 times |
| Elderly guardians | 2,729 stores | More than 5,009 times |
| Scam (billing fraud) prevention | 3,078 stores | - |
| Encouraging juveniles to go home during the midnight hours | 7,818 stores | - |
* Figures are extracted from the 2021 SS questionnaire report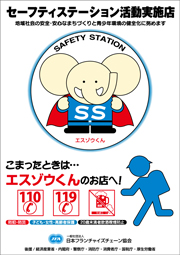 Examples of SS Activities Preventing incidents of fraud
A male customer in his 70s came into our store, wishing to purchase a gift card for 50,000 yen. The customer was unfamiliar with purchasing gift cards, so when asked about the purpose of the purchase, he replied, "I opened a website on my computer and was asked for 50,000 yen." Suspecting the possibility of fraud, the clerk managed to convince the customer that it was a scam and called 110. A police officer came to the store and listened to what the man had to say. As suspected, it turned out to be a gift card number exploitation scam.
Taking care of lost children
A child under elementary school age told staff at one of our stores that he had lost his way home, so we looked after the child in the store. We searched for the child's guardians inside the store and in the parking lot, but could not find them, so we called 110. A police officer searched the neighborhood with the child and was able to see the child safely home.
Cooperation in community crime prevention activities
Staff at one of our stores looked after a customer with dementia who had gone missing. Since she was a regular customer and they knew where she lived, a store employee accompanied her back to her home.
Protecting communities from fires
On a weekday evening, a woman rushed into the store in a panic and said, "Smoke is coming from the house next door." We checked the house with the woman where smoke was coming from, calmed the confused woman, and called 119. Soon after, fire engines arrived, extinguished the fire, and the fire was contained. Although it was during commuting hours, the fire did not have a major impact on nearby residents.
Crime prevention efforts in stores
In-store announcements are made to ask young customers to refrain from going out late at night in accordance with the Youth Development Ordinance, and to remind customers not to drive under the influence of alcohol.
In addition, security cameras have been installed in all stores to deter crime, and in the unlikely event of an incident, we cooperate with investigations to apprehend the perpetrators. Inside our stores, we have installed a variety of security equipment, mainly near the counters, to protect the personal safety of our customers and employees.
Crime prevention at stores
We conduct education to ensure that store personnel act with the highest priority placed on personal safety and with crime prevention in mind, in ways such as greeting customers in a cheerful and spirited manner. Our headquarters is cooperating with the police and the Japan Franchise Association in efforts to prevent crimes against the convenience store industry as a whole.
Actions taken as crime prevention measures
Promotion of security camera installation


Digital security cameras with detailed imaging are installed at every store to discourage potential perpetrators from committing crimes and to support investigations that may lead to the arrest of perpetrators in the unlikely event an incident should occur.

Creation of an environment for store crew education


Reminders to raise awareness of crime prevention are distributed for display on POS cash registers and store computers, and crime prevention movies are also delivered to stores for use in educating their store crew members. Various tools and manuals, such as crime prevention self-check lists, have also been prepared.

Enhancing guidance provision during patrols


In addition to the regular store patrols, we also provide crime prevention support for stores during late-night and crime prevention patrols to raise awareness together with franchise stores.

Conducting crime prevention drills


Employees are trained under police direction in methods of responding to robberies, including throwing of anti-crime color paintballs and, more recently, training for special fraud prevention.
Notices Displayed on Cash Register and Loppi Screens
The customer screen of POS cash registers and the Loppi screen, which are frequently seen by customers, alerts them to cases of fraud, prohibits the sale of alcoholic beverages and cigarettes to minors, and deters people from shoplifting.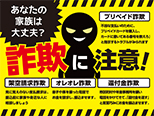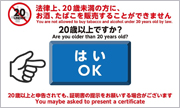 Barrier-Free Stores
We are committed to creating barrier-free stores that are comfortable and easy to use for the elderly, pregnant women, people with disabilities, and others. We have eliminated steps at entrances to newly opened stores, and some stores have automatic doors. Toilets are equipped with Western-style toilets and handrails, and we have done away with steps at the entrances to restrooms. In addition, newly opened stores with parking lots provide parking for wheelchair users (one space).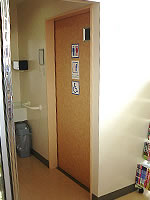 Working Dogs (Assistance Dogs) Welcome
We welcome working dogs (assistance dogs) such as guide dogs for the blind, service dogs, and hearing dogs at all of our stores so that anyone can use our stores with peace of mind.