Effective July 1, 2020, it is mandatory for stores to charge for plastic shopping bags as part of preserving the global environment. Lawson strives to reduce plastic use by charging for plastic shopping bags and using plastic containing plant-derived materials by 30% in response to this movement.
Also, we have promoted the use of portable and reusable shopping bags since 2007. As a result of these efforts, the shopping bag refusal rate at the end of February 2021 reached 74.9%. We donated a portion of the proceeds from the shopping bags at our company-operated stores to the Japan Food Bank Promotion Group in the form of rice. The donated rice will be provided to families in need of food aid as part of our efforts to support children's diets.
Weight of plastic shopping bags consumed per store
(Excluding the data on LAWSON STORE 100)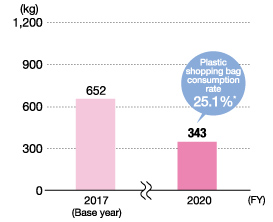 * The plastic shopping bag consumption rate is as of the end of February 2021.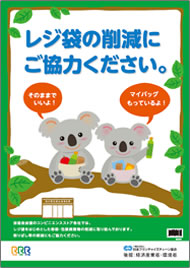 ▲ A plastic shopping bag reduction campaign
poster posted in the stores
(Japan Franchise Association
poster for member convenience stores)