SUSTAINABILITY

Owners
Characteristics of the Lawson Franchise (FC) System
With the Goal of Realizing the Group Philosophy, the Franchise Stores and the Lawson Headquarters Pursue their Business Operations Hand-In-Hand with each Other as Partners
The Lawson Franchise System
Lawson's convenience store business is run on a franchise system. Under this system, Lawson headquarters and franchise owners share the Group Philosophy of "Creating Happiness and Harmony in Our Communities," and work as equal partners toward growth. Headquarters provides franchises with a number of services, providing distribution and information, brand licensing, and operational expertise as well as continuous guidance and operational support. In return, as independent business operators, franchise owners seek to maximize profits by optimizing customer satisfaction while paying franchise fees and royalties. In this way, franchise owners and Lawson headquarters work in tandem, each playing their respective roles.
Building a Strong Partnership with Each Franchise Owner Through Communicating Directly with Them
To date, Lawson has been striving to bolster its relationships with franchise owners in the belief that its growth rests largely on the entrepreneurial mindset of franchise owners and on its franchise system.
As a means of bolstering our partnerships with franchise stores, we hold events, including the Lawson Seminar event, designed for us to share Lawson's corporate policy and vision with franchise stores, and the Area Meeting event, designed for franchise owners to share their successful experiences and business plans. Moreover, since 1993 Lawson has been continuing to run the Direct-to-President and CEO Letter program allowing the franchise owner as well as the store manager and crews to present opinions and proposals directly to the Company's top manager.
The above-mentioned initiatives are aimed at turning franchise stores and the Lawson headquarters into one team that "creates happiness and harmony" in local communities with a sense of partnership.
Mechanisms for Information Sharing and Direct Dialogue
Lawson Seminar
1. Lawson Seminars

Lawson Seminars are convened for every franchise store each spring and fall throughout Japan. The President and other members of management share the Company's policies and directions with the franchise owners by providing them with detailed explanations of future business strategies, and informing them of product development planning in conformance with the policies.
2. Area Meetings

Area meetings are regional workshops conducted monthly at Lawson branches from Hokkaido to Okinawa. Franchise stores from the same areas gather to share details of sales activities planned for the following month as well as of their past successes, or to exchange opinions with the aim of helping individual stores improve their management capabilities.
3. Direct line to the President

This original Lawson system enables franchise owners, store managers and store crew members to express their opinions, proposals, or requests for improvement directly to the President. The President checks all the messages delivered over this line and takes necessary measures.
4. Lawson Franchise Store Advisory Committee

Established in April 2019, the Lawson Franchise Store Advisory Committee is a new initiative for promoting improvement and innovation in Lawson's interactions with FC owners by enabling them to express opinions concerning Headquarters' management and strategies from the FC perspective.
5. Lawson Owner Hotline

In July 2019, Lawson established a system of both internal and external telephone consultation contacts to enhance communication with franchise owners. The external contact, comprising a hotline installed in a law firm, permits franchise owners to discuss issues they find difficult to raise in direct consultations with in-house personnel.
Our Management Owner System Encourages Strongly Entrepreneurial Franchise Owners to Open Multiple Stores

Lawson has created the Management Owner (MO) system to support franchise owners in expanding their businesses as locally based entrepreneurs. The MO system aims to nurture outstanding MOs through training that imparts the management knowledge and skills necessary for multi-store operations. MOs work to expand their business and operate multiple stores while maintaining high customer satisfaction by cultivating Store Consultants (SCs), who act as business managers, as well as store managers and crew members (part-time and temporary workers) within their own organizations.
MOs provide franchise owners with their advice on management by making a presentation as the representative of all stores in the area at the "Area Meeting," and giving a lecture to training participants.
Lawson's Step-Up Model for Franchise Owners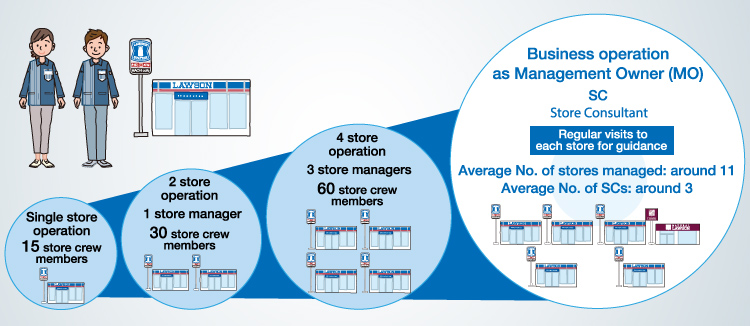 Management Owner (MO):

An MO is a type of franchise owner officially approved by the Lawson headquarters as one that is in an even stronger partnership with the headquarters. Furthermore, an MO is a business operator who runs multi-store operations in a manner befitting the local area and aims for growth hand-in-hand with the headquarters.

Store Consultant (SC):

An SC is a store manager within the MO organization who has been granted SC qualifications certified by the Lawson headquarters through undergoing a process of specified training and review, and who is charged with making a round of visits to individual Lawson stores to provide them with operational guidance.
Operational Support for Franchise Stores
In order to achieve sustainable growth together with its franchise stores, Lawson provides operational support by taking various measures to deal with the labor shortage in Japan, which has become a major social issue in recent years, and the resulting increase in costs, as well as disposal losses and other issues.
In the future, we will further strengthen our efforts to provide operational support to franchise stores by taking measures to increase their profits.
Initiatives to Support Franchise Stores
(1) Labor-saving in store operations using digital technology
Promotion of AI-based semi-automatic ordering systems and planned ordering
Improvement of store productivity through the visualization of work schedules and management of fast food production using tablet terminals
Improved operational efficiency of Machikado Chubo in-store kitchens, which allow food to be freshly prepared in-store, and the introduction of automatic dishwashers
Introduction of POS cash registers with automatic change machines to reduce the burden of cash register operations
Promotion of non-contact customer services and reduction of cashier workload through the use of customer-operated registers (self-mode)
(2) Reduction of disposal losses
Encourage discount sales and selling off of fried foods at stores
Reduction of waste by extending the allowable sales time (chilled lunch boxes, etc.)
Achievement of efficient discounting operations through a discount sticker issuing system
(3) Support for recruitment of human resources, enhanced retention of existing store crews, and improved recruitment efficiency
Implementation of owner support system by headquarters employees and support for franchise stores by the temporary staffing company Lawson Staff
Provision of a call center to accept all applications for part-time jobs
Establishment of a store crew training system and communication tools
Franchise Store Benefit System

Lawson Owner Welfare Association
A Lawson Owner Welfare Association pamphlet
Participants in a health promotion seminar
The Lawson Owner Welfare Association provides franchise stores with benefits embodying the three principles of "comfort," "health" and "peace of mind." The wide range of benefit packages includes various allowances, mutual aid and compensation for franchise owner members and their families as well as for store crew and staff members.
Allowances for use of sports facilities
Allowances for full medical examinations and health checkups
Allowance for influenza vaccines
Nursery and day-care center allowances for store crew members
Hosting of health promotion / family events and seminars for women
Addition of on-demand/online events from fiscal 2020
Travel and accommodation services
Allowance for correspondence courses
Congratulatory and condolence payment system
(including COVID-19 special condolence payment)
Voluntary group insurance system for franchise stores (selection of various insurance packages)
Discounts and preferential treatment at gourmet, leisure, entertainment, child-rearing, nursing care and other life enrichment and support facilities
Car rental discounts