SUSTAINABILITY

Engaging with the SDGs
Identify Lawson's Material Issues,
and Promote Sustainable Initiatives to Realize Its Future Vision
Based on our corporate philosophy "Creating Happiness and Harmony in Our Communities," we promote customeroriented business activities aiming to become the "Hot Station (Best Relief Hub) in Our Communities." Believing that striving to realize the "Three Promises" eventually promotes the "Sustainable Development Goals (SDGs)," we aggressively address our challenges.
Sharing issues faced and progress made toward their solution at the SDGs Committee
●SDGs Committee Organization
In March 2019, we established the "SDGs Committee" aiming to realize a sustainable society through Lawson's business activities, and have conducted initiatives leading to solutions for social issues one by one through a step by step approach. While each division spontaneously works to realize the "Three Promises" through their business activities, we promote initiatives linked to "SDGs," and periodically come up with solutions for challenges and report on progress through the "SDGs Committee." While the committee takes the initiative in fulfilling our social responsibility by solving social issues step by step, we continue striving to enhance our corporate value and achieve sustainable growth.
●Identifying Material Issues
Steps to Identifying "Material Issues"
STEP

1

In order to find issues with heavy impacts on the environment, society and economy, and then identify Lawson's own "material issues," we categorized our business activities into value chain phases such as raw materials procurement, manufacturing, distribution, etc., and confirmed what initiative was helpful toward achieving each target or goal of the SDGs by clarifying social issues in every phase.
STEP

2

From the social issues spotted in the feedback or questionnaire results from stakeholders such as customers, franchise stores, shareholders, and institutional investors, we selected the issues with heavy impacts on the society.
STEP

3

Cross-checking the social issues identified through stakeholder feedback with those impacting heavily on Lawson, we prioritized those necessary for us to become a "Hot Station (Best Relief Hub) in Our Communities."
STEP

4

We linked Lawson's initiatives for the specified social issues to the "Three Promises," and decided our material issues.
●Matrix -Impacts of Identified Social Issues Plotted on Graph-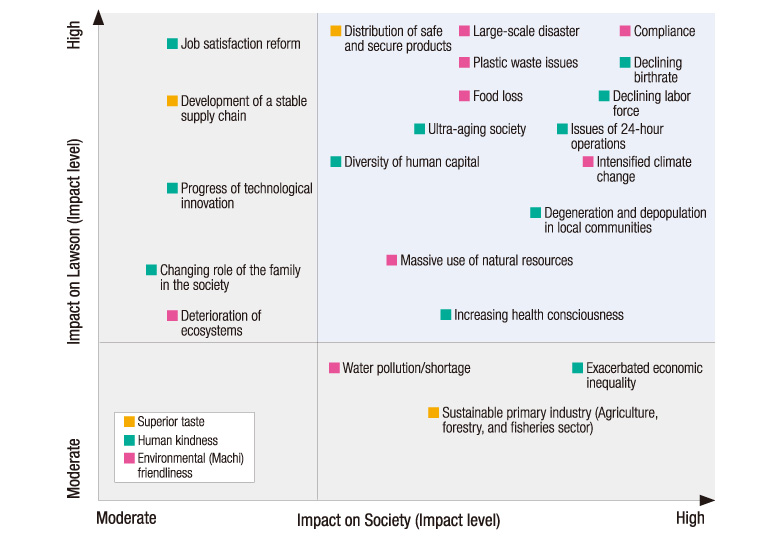 Lawson's Material Issues
・Based on our business policy the "Three Promises," we classified our value chain-related initiatives into six categories taking into account social issues and conditions.
・We decided our material issues from customers' standpoints emphasizing our initiatives as an organization responsible for safe and secure social infrastructures, which is the most important role for a retailer.
Business Policy
Applicable
SDGs
Material Issues
(Materiality)
Major Initiatives and Services

Providing Safety/Security-Oriented Overwhelmingly High Value-Added Products and Services Friendly to Society and the Environment

Providing high value-added private brand products (rice, frozen foods, and fast foods)
Deployment of Machikado Chubo in-store kitchens
Planning and developing locally-produced products for local consumption, and spontaneously utilizing domestic ingredients
Developing and selling products under consideration of the society and the environment (MACHI cafe, NATURAL LAWSON brand, etc.)
Deployment of LAWSON Farm agricultural products (Nakashima-method/GAP certification)
Developing and operating a stable supply chain including manufacturing and distribution
Conducting fair trade with suppliers (raw materials procurement, purchasing management optimization)

Supporting Health Promotion for All People Through Products and Stores

Development of products with low salt, controlled sugar content and reduced additives
No use of preservatives and artificial colors
Changeover to easily understandable nutrition facts
Creation of a pharmaceutical product sales system
Expansion of NATURAL LAWSON and HealthCare LAWSON
Executing health promotion agreements with local governments
Supporting and subsidizing health initiatives for store owners and crews
Promoting health and productivity management (Promoting employees' challenge for health)

Providing Comfortable Work Environment Leading to Job Satisfaction

Maintenance of comfortable store environments (installation of equipment, review of work processes, etc.)
Training and retention of store crews (Fantasista qualification system, use of early-stage educational materials)
Introduction of an owner support system (support for franchise owners to allow vacations)
Promoting MO system for multiple-store management
Enhancing communication with franchise stores (establishment of the Franchise Store Advisory Committee and owner hotline)
Promotion of work-style diversification (examination of remote work systemization)
Development and expanded use of leaves for maternity, childcare, nursing, long-term care, etc. (operation of nursery school)

Supporting Women, Senior People as well as Children's Growth

Maintaining Single Parent Family Support Scholarship Fund System
Promoting fund-raising programs for children's futures (school afforestation projects, "Dream Classes, etc.)
Children's learning support (Kyoto Student City, acceptance of work experience, on-site lessons, etc.)
Donation of products to facilities that require food support
Deployment of "Care-focused LAWSON for Senior Citizens" program (support for long-term care), regional revitalization events
Promoting Safety Station (SS) activities (community watch service for women, children, and seniors)

Coexisting Synergistically with Communities by Serving as Part of Social Infrastructure

Mobile sales, delivery service provision and promotion
ATM services of Lawson Bank
Government certificate issuance services
Executing comprehensive regional agreements with the local governments
Reviewing of the Business Continuity Plan (BCP)
Collaboration with national and local governments to support stricken areas in the event of disaster

Sustainable Environment Preservation Activities Toward Carbon-Free Society

Promoting energy efficient stores (CO

2

reduction) (Introducing and operating energy efficient equipment)
Utilizing and spreading renewable energy (solar power, etc.)
Efficiency enhancement of distribution and promotion of changeover to environment-friendly trucks (CO

2

reduction)
Promoting food waste reduction (food recycling, etc.)
Reducing plastic used for plastic shopping bags and containers and packaging
Goals for 2030 (KPI)
Setting KPIs for social environment taking into consideration social issues and conditions
●Reducing food waste
Reduce by 50% v. 2018 levels
●Reducing plastic
Plastic for containers and packaging
Reduce by 30% v. 2017 levels
(Lawson's original products Eco-friendly materials 50% used)
Plastic shopping bags
Reduce by 100%
●Reducing CO2 emissions
CO2 emissions per store
Reduce by 30% v. 2013 levels
Lawson's Vision 2050
Take on more difficult challenges!!
Lawson Blue Challenge 2050!
Save our blue planet!
We take on difficult challenges to achieve higher goals so that we can create a carbon-free society and contribute to the ideal world that the SDGs aim to realize.
●Reducing food waste
Reduce by 100%
●Reducing plastic
(for containers and packaging)
Lawson's original products Eco-friendly materials
100% used
●Reducing CO2 emissions
CO2 emissions per store
Reduce by 100%
We examine and discuss what we should do now by focusing on "Lawson's Vision 2050," and looking back on what we have done so far to steadily proceed with our material issues and KPIs for the SDGs (Sustainable Development Goals to be achieved by 2030).

Lawson endorsed the Task Force on Climate-related Financial Disclosures (TCFD) in April 2020. We will respond to the intensifying challenges posed by climate change by analyzing climate-related risks and opportunities, grasping the impact on our business strategies, considering countermeasures and actively disclosing information.
Lawson's Way of Thinking in Advancing Initiatives

Contributing to achieving a sustainable society from two perspectives

The Lawson Group seeks to contribute to achievement of the SDGs from the following two main perspectives.
First, we pursue activities that make proactive contributions to society and the environment. In particular, we are endeavoring to determine the volume of CO2 emissions released from our supply chain and installing the latest energy-efficient equipment in our stores as part of our efforts to reduce CO2 emissions from our operations.
Second, we provide proactive support for our customers' social and environmental activities by delivering eco-friendly products and services.
Social and Environmental Education
New hire training
At the Lawson Group, we conduct social and environmental education and training for headquarters employees, franchise owners, store managers, and store crews.

Beginning with training at headquarters for new recruits, training encompasses all Lawson employees and includes annual general environmental training via e-learning.

For franchise owners, store managers, and store crews, training is provided when new stores open as part of our Basic Management Course (BMC). Moreover, we take steps to regularly share information through in-house magazines and reports.
●Social and Environmental Education
| Target | Method | Frequency | Description |
| --- | --- | --- | --- |
| Franchise owners, managers, store crews | Pre-store opening and other training, in-house magazines, reports. | Once a month or more | Sharing information relevant to stores about social and environmental initiatives |
| Headquarters employees | Training for new hires and newly promoted managers, general environmental training (e-learning and self-directed), in-house magazines, reports. | Once a year or more | Sharing information relevant to the Lawson Group's activities about social and environmental initiatives and promoting environmental legal compliance |
| Affiliated companies | General environmental training (lectures, e-learning, and self-directed) | Once a year or more | Sharing information relevant to the Lawson Group's activities about social and environmental initiatives and promoting environmental legal compliance |