SUSTAINABILITY

Customer Relations
Delivering Superior Taste
Basic Concept
Here at Lawson, we work tirelessly to plan and develop original products that add richness and good taste to daily life through our familiar community stores, including food products that deliver superior taste and other daily necessities. In order to identify the needs of customers and be able to respond to changes in needs, we analyze purchase data from point cards and customer opinions* on social media to develop products that offer new value.
In particular, in the development of food products, we place the highest priority on safety and security, complying with all laws and regulations related to safety and ensuring thorough quality control.
At the same time, in order to help create a sustainable society, we are striving to build a stable supply chain and develop products while giving consideration to the natural environment and local communities.
* We analyze point card purchase data and customer feedback in a way that ensures that individuals cannot be identified.
Initiatives in the Procurement of Raw Materials
The Lawson Group handles many original food products such as rice products, store-cooked side dishes, and desserts. As such, in order to provide our customers with products on a daily basis, we must ensure the stable procurement of raw materials such as agricultural, livestock, and marine products.
In our efforts to assure group stores maintain a stable supply of vegetables and fruits that support the healthy eating habits of our customers, we have established Lawson Farm, a corporation qualified to own cropland, with member farms at locations nationwide. Lawson Farms employ the Nakashima method of farming, which involves conducting soil diagnoses to develop ideal soil for growing crops before planting and supplies appropriate nutrition according to the growing conditions to produce healthy, delicious vegetables and fruits. We are also working to satisfy the GAP (JGAP, ASIAGAP) guidelines for sustainable agricultural production through efforts in the areas of quality improvement, food safety and environmental protection. In addition, we are working to make effective use of agricultural products by utilizing vegetables with imperfections, which are usually discarded without being sold in stores, for salads, pickles, and other products.
In the future, we will continue our efforts to reduce risks associated with procuring raw materials by working to further ensure animal welfare and sustainable raw material procurement.
Development of Nutritious Foods
In order to help customers of all ages enjoy a healthy diet, the Lawson Group strives to create sales areas where nutritious foods can be purchased at neighborhood stores. In developing and selling products, we aim to create greater tasting products with a focus on controlling sugar and salt content and increasing protein intake to help solve customers' lifestyle issues.

Responsibility as a Seller
Preventing the Sale of Alcoholic Beverages and Tobacco to Persons Under 20 Years of Age
The Lawson Group sells alcoholic beverages and cigarettes, and we recognize that it is our corporate social responsibility to take appropriate measures to prevent under-20s from drinking and smoking. In addition, we are taking measures mainly in our stores based on the belief that there is a high risk of health effects from drinking and smoking among people under 20 years old. On the customer screens of point-of-sales (POS) cash registers, which are often seen by customers, we inform customers that the sale of alcoholic beverages and cigarettes is prohibited to those under 20 years old, and we ask for proof of identification to those customers who appear to be under 20 years old.
In addition, three times a year we step up our efforts to prevent under-20s from drinking and smoking in cooperation with the Japan Franchise Association. On these occasions, we work to prevent the sale of alcoholic beverages and cigarettes to under-20s by informing customers and educating store employees.
In addition, so as to prevent sales to persons under 20 years of age, liquor stores are required to establish and submit notification of liquor sales managers who have completed the prescribed training, and provide store employees with the necessary advice and guidance to ensure that they perform their duties in compliance with laws and regulations regarding the sale of alcoholic beverages.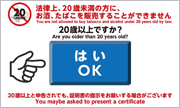 ▲ Customer screen on a point-of-sales (POS) cash register
Sales of Non-alcoholic Beverages, etc.
We sell non-alcoholic beverages at Lawson Group stores that handle alcoholic beverages. In addition, in response to customer needs for products with lower alcohol content, we are working with breweries to develop products with lower alcohol content than conventional products.
Prevention of Improper Labeling of Products
In order to prevent improper labeling, we have a system in which the CRO* is in charge of labeling management and manages and supervises the employees belonging to that department. Each department has established a check sheet and approval flow for the prior review of labeling, etc. In accordance with the flow, information that forms the basis for labeling is collected and confirmed, and the quality control and legal departments conduct reviews. The information on which the labeling is based is shared among the relevant departments so that they can confirm that the labeling is appropriate at each stage, from product development to sales promotion, and is also stored for a certain period of time so that it can be checked later down the line.
The CRO reviews the establishment, effectiveness, and check flow of the labeling examination system in line with that department's own operations, and reports the results of the review to the Intellectual Property/Free Gift Labeling Measures Subcommittee and the Compliance and Risk Management Committee Meeting every year to maintain an appropriate examination system.
We provide various training programs, such as the Intellectual Property/Free Gift Labeling Measures Subcommittee, the Compliance and Risk Management Committee Meeting, and training for merchandisers (MDs) when they are appointed, which are designed to inform and enlighten employees on things including how the labeling pre-screening system should be, examples of problematic cases, and ideal responses.
* CRO: Compliance and Risk Management Officer. The person in charge of the department responsible for controlling issues related to compliance with laws and regulations in the department and establishing and implementing a system to prevent risks.
Display of Product Information (Thermal Label)
Lawson displays information on its original products by attaching labels that indicate the product name, use-by date, ingredients, etc. Lawson also voluntarily provides detailed information on items other than those required to be listed, so that small children and people with allergies can eat the products with peace of mind. The contents of the labeling are strictly checked by the quality control department, as well as by third parties and at the manufacturing stage, in a double and triple check system.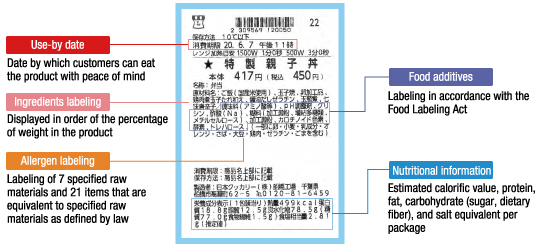 End of August 2021