SUSTAINABILITY

Carbon-free Initiatives
Managing Stores to Save Energy
Reduction of Per-Store CO
2

Emissions by 50% by Fiscal 2030
▲

A freezer and refrigeration system using CO

2

coolant
This system has better effects for preventing global warming compared with CFC equipment as well as higher energy-saving effects.
In order to reduce its environmental footprint, Lawson is working to cut the amount of electricity it uses in its stores. To date, we have been proactively working to reduce electricity consumption in our stores by taking such steps as introducing energy-saving refrigeration equipment that uses CO2 as a refrigerant.
In order to further contribute to the SDGs, we have set a target (KPI) for 2030 to reduce CO2 emissions per store by 50% compared to 2013 levels, and will promote further efforts by combining energy saving and energy creation measures.
CO2 emissions per store*1

Notes : 
*1.

As for the data used to calculate CO

2

emissions, the "CO

2

Emission Coefficients by Electric Power Company" were used.
*2.

Calculated from April 1 to March 31 of the following year to coincide with the administrative fiscal year.
Initiatives at Environment-Friendly Model Stores
Lawson opens environment-friendly model stores throughout Japan into which different types of eco-friendly facilities are introduced. Effective types of cutting-edge equipment are installed in other stores after their effects in terms of renewable energy use and performance are verified.
▲

LAWSON Keio University SFC Store
(Fujisawa City, Kanagawa Prefecture)
A model store, the refrigerators and freezers of which are all CFC-free, was launched on Keio University Shonan Fujisawa Campus in September 2019. CFC-free refrigerants have a lower global warming potential (GWP) compared to their CFC counterparts, and are expected to contribute to energy saving. It is the first Lawson store fully equipped with CFC-free refrigeration systems.
Lawson Store Fully Equipped with CFC-free (CO
2

/HC Refrigerants-based)
Refrigeration/Freezing Systems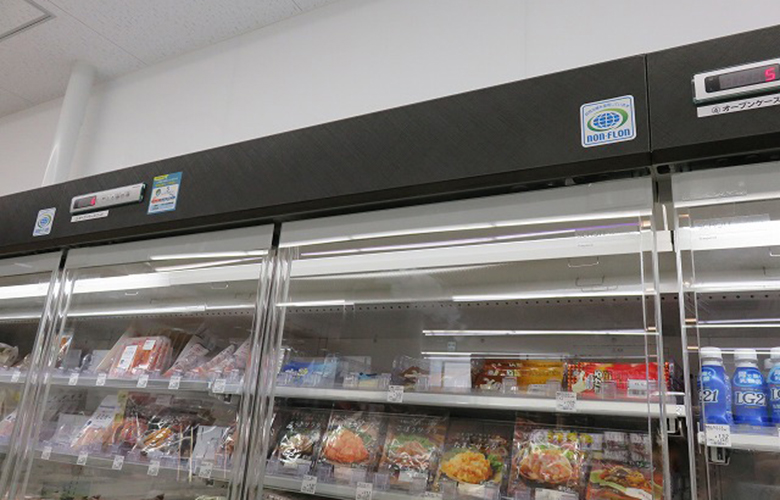 All the refrigerators and freezers in the store, including refrigerated display cases, commercial refrigerators used to store products, and ice makers are all CFC-free (CO2/HC refrigerants-based), which contributes to energy saving and the improvement of global warming caused by CFCs.
Control Store Electricity Consumption by Using Electric Vehicle (EV) as Company Car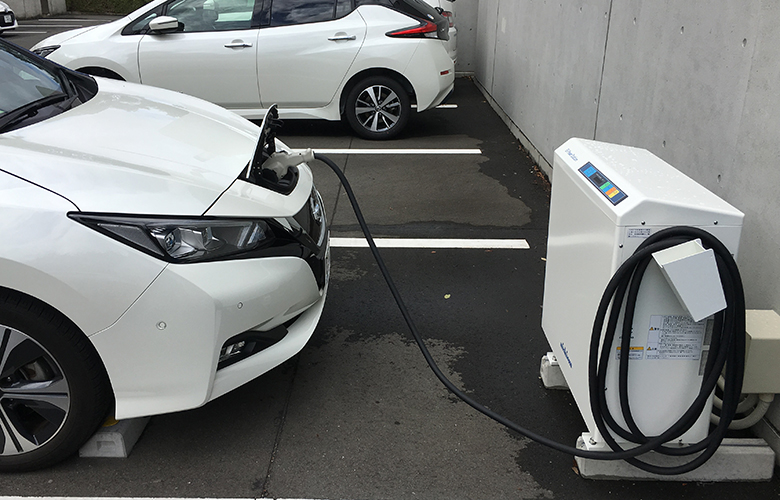 Changing the company car for the Supervisor (SV) to an EV makes it possible to create a two-way power flow between the EV and the store by only connecting the EV to the store's EV charger with no need for in-store operation. That is useful to control the store's electricity consumption.
Activities of eco-friendly model store(an example)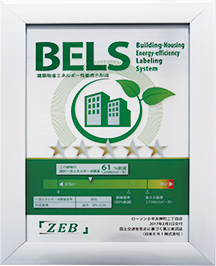 The LAWSON Kodaira Tenjin-cho 2-chome Store, an eco-friendly model store, acquired a five-star rating, the highest in the Building Energy-efficiency Labeling System (BELS), which evaluates the energy-saving performance of buildings on a five-level scale. The store also achieved "net Zero Energy Building" (ZEB), the highest of the three levels (ZEB, Nearly ZEB, and ZEB Ready) in the energy rating system for buildings. If a building has achieved net zero primary energy consumption (energy used for air-conditioning, ventilation, lighting, hot water, etc.) through the use of renewable energy, installation of highly energyefficient equipment etc., the building is given a ZEB rating.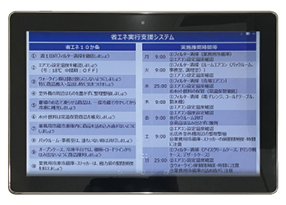 The system notifies tablets installed in stores of the "Ten Energy-saving Rules" to be performed on a daily basis. In addition, in order to help ensure the stable supply of electricity, we have introduced a system that automatically controls IoT-based store facilities such as air-conditioning and lighting equipment by notifying tablets of the implementation of power saving (electricity creation).
Pursuing Innovation toward Eco-Friendly Stores
Since August 2008, Lawson has been opening eco-friendly model stores that use natural energy such as natural light, wind and geothermal energy. Facilities that are found to offer excellent energy-saving effects are then introduced to existing stores for further energy conservation and reduction of CO2. The findings obtained through these efforts have yielded such fruits as solar-power systems, LED lighting and freezer and refrigeration systems using natural (CO2) coolants.
List of Eco-Friendly Stores
Active Introduction of Freezing and Refrigeration Systems Using CO
2

Coolant

A pillar in the prevention of global warming.
We are proactively introducing non-fluorocarbon (CO2 coolant) freezing and refrigeration systems.

In fiscal 2010, Lawson began installing CFC-free (CO2 coolant) freezing and refrigeration systems that have high energy-saving effects. The total number of stores with the systems reached about 4,200 as of March 31, 2021.
The impact of CO2 coolant on Earth's atmosphere is very small, greatly reducing greenhouse gas emissions. CO2 coolant is also highly energy efficient.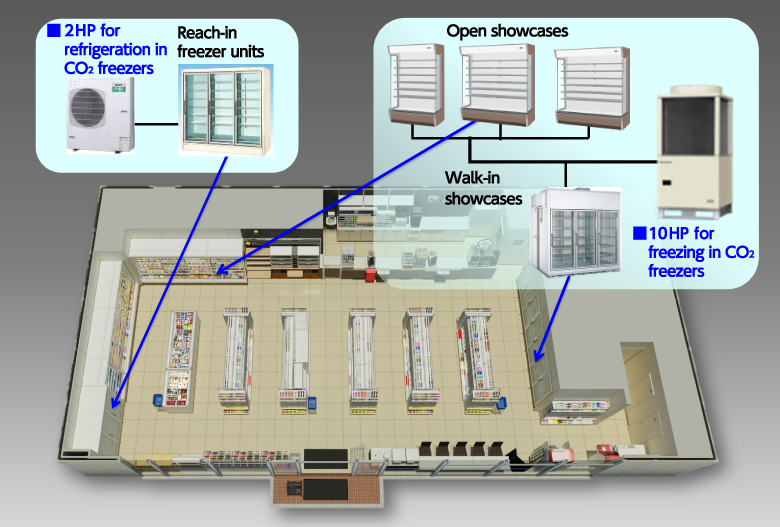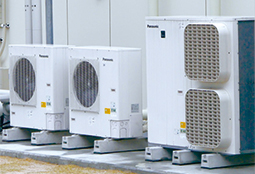 ▲ CO2 coolant freezing and refrigeration system
Switching from CFC coolant to a system that utilizes carbon dioxide (CO2)
Coolant is a substance used to cool refigeration equipment, such as air conditioners, freezers and refrigerators by utilizing the heat of vaporization that occurs when the coolant changes from a liquid to a gas. CFCs have been used as coolants because they are chemically stable, easy to handle, and have low toxicity to the human body. On the other hand, laws have been tightened to regulate the use of CFCs due to their depletion of the ozone layer, which protects living organisms from ultraviolet rays, and their apparent impact on global warming. As a result, naturally occurring coolants such as carbon dioxide (CO2), ammonia, and water are being used in place of CFCs.
As part of its efforts to combat global warming, Lawson decided to use CO2 as a safe and environmentally friendly coolant, and to use natural coolant in its refrigeration equipment as soon as possible. The introduction of CO2 coolant freezing and refrigeration systems began on a trial basis in December 2010. Having confirmed the effectiveness of these systems, we began full-scale introduction in August 2014, and as of the end of March 2021, a cumulative total of approximately 4,200 stores had installed such systems.
Solar Power Systems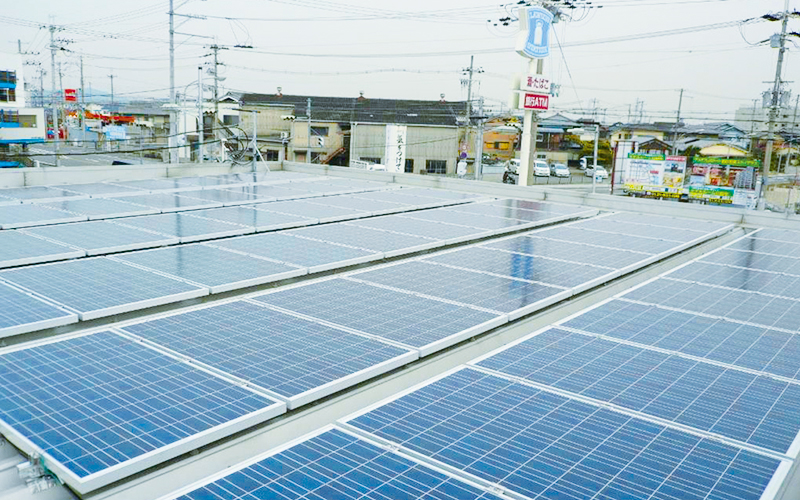 ▲ Solar power systems
We are working on the introduction of solar power generation systems with the aim of spreading and expanding the use of renewable energy.

In fiscal 2020, we installed solar power generation systems in approximately 240 stores nationwide, with all 12 kW being used for on-site consumption in the stores. We will continue to actively install solar power generation systems for our own consumption to reduce electricity consumption and CO2 emissions.
Participation in a Photovoltaic Power Generation Business through a Citizens' Fund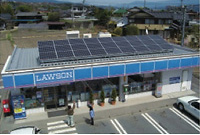 ▲ Solar panels installed on the roof
of the Iida Dashina Store
Lawson is involved in a photovoltaic power generation business called the South Shinshu Ohisama Power Station Installation Project under the auspices of a citizens' fund, the Global Warming Prevention Ohisama Fund. Power generated by solar panels installed on the rooftops of two Lawson stores in Iida City, Nagano Prefecture, by the citizens' fund with a subsidy from the Ministry of the Environment is purchased by the stores for their internal consumption. The panels on the Iida Dashina Store generate approximately 5,000 kWh of power, while the Iida Zakoji Store's panels generate approximately 9,500 kWh. Power generation by this business is approved/authorized by the Green Energy Certification Center, and the "Environmental Value" of the generated power is represented as Renewable Energy Certificates*.
* Renewable Energy Certificate: The environmental value of power generated using sunlight, wind power, and other natural energy sources is recognized in the form of tradable certificates.