SUSTAINABILITY

Carbon-free Initiatives
More Efficient Distribution
Lawson seeks to reduce the environmental burden by implementing an efficient nationwide distribution network and introducing eco-friendly vehicles and facilities.
Optimizing Delivery Frequency
We use trucks equipped with two temperature zones partitioned to separate chilled products* from unchilled products, making it possible to more efficiently transport both in one vehicle. We have also adjusted the delivery frequency for daily necessities, processed foods, and frozen foods. These initiatives have facilitated a reduction in daily average deliveries per store (excluding newspapers, books, magazines and cigarettes) to 7.0, from 16 in 1989.
*Chilled products: Rice dishes, dairy products, desserts and other items that must be kept refrigerated.
Average Daily Deliveries Per Store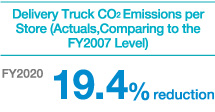 Eco-Tires and Traffic Control System
Eco-Tires

Thanks to innovations in tire shape and rubber composition, eco-tires help reduce energy loss (rolling resistance) during use and thus reduce fuel consumption. The use of eco-tires is estimated to improve per-vehicle fuel efficiency by about 4%.
Traffic Control System

This system provides real-time information about the temperature of goods during transportation as well as about arrivals and deliveries, enabling more robust quality control. It also provides data on the ways trucks are being driven, including rapid acceleration and braking as well as speeding. We use this information to promote more efficient driving and to help prevent unnecessary idling.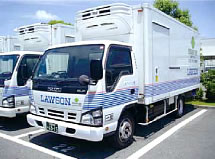 Delivery truck

Eco-tire
Eco-Friendly Driving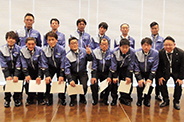 Awarding ceremony of recognition for eco-friendly drivers
We train drivers to always avoid unnecessary idling and noise. Seeking to raise driver awareness, we also have a awarding system of recognition to contractors that promote eco-friendly driving.
From December 2020, three convenience store operators, Toyota Motor Corporation, and Hino Motors, Ltd. have jointly launched an initiative to introduce light-duty fuel cell trucks. From July 2021, we will conduct a demonstration experiment with one truck in Tokyo to identify issues in refueling, delivery, and unloading operations.