CORPORATE SOCIAL RESPONSIBILITY

Resource Saving
Use of Eco-Friendly Containers and Packaging
In the area of containers and packaging used for boxed meals, prepared foods, and other items, we strive to reduce usage volumes and actively utilize eco-friendly materials.
Reducing Unnecessary Use
To more effectively utilize finite resources, while ensuring container safety, we have reduced the weight of containers and packaging by adopting foam materials, making packaging thinner, optimizing container materials and shapes.
Container / Packaging Weight and CO2 Emissions when Incinerated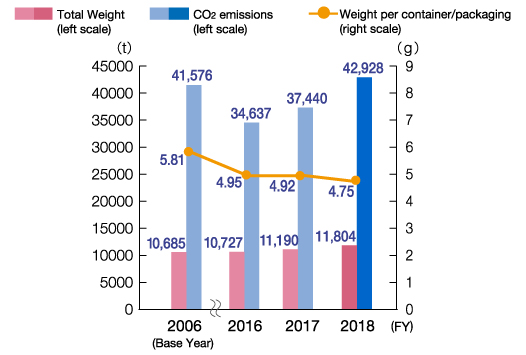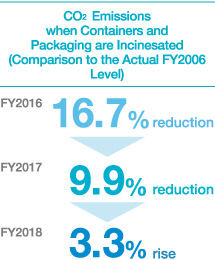 Switch to paper cups for MACHI café iced coffee

In 2019 we began replacing the plastic cups used for MACHI café's iced coffee with paper cups like those used for hot drink cups. Although still made of plastic, the lids have openings for drinking that eliminate the need for straws. This will reduce the amount of plastic used per cup by approximately 80%, which will add up to a reduction of approximately 540 ton when the cups are adopted by all the stores.
Redesign of original cold drink containers

The original containers used for cold drinks such as NATURAL LAWSON's Green Smoothies and yogurt drinks were redesigned in 2019. The outer lids were removed from all the containers, a change we expect to reduce our plastic use by some 320 tons per year.
Switch to chilled noodle containers made of recycled PET material

The material used for such chilled noodle dishes as chilled ramen noodles with various toppings has been changed from PET material to a material containing recycled PET obtained from recycled PET bottles.