Becoming a Next-Generation LAWSON Convenience Store
1,000-Day Action Plan
Communities are changing every day as the number of double-income households increases, the population ages at an accelerated rate and the number of neighborhood retailers decreases, among other phenomena. Lawson is responding to these changes and transitioning from a store that offers convenience into an essential part of our communities. We will continue to push forward by expanding our offering of products and services and making other advances. Besides continuing to meet customers' needs, we will tackle the important challenge of improving profitability through innovation to achieve sustainable growth.
Meanwhile, Lawson began implementing its 1,000-Day Action Plan in 2016. In our efforts to become an essential part of our communities, we are changing our operating frameworks, working styles and culture with the aim of becoming a leading company in execution by striving for innovation as "One Lawson." We will build a Next-Generation LAWSON Convenience Store model by making full use of cuttingedge IT technologies and Ponta card member purchase data, and developing store operations to incorporate diversified human capital and achieve further evolution of the Manufacturing Retailer Based on a Small Commercial Area model.
1,000-Day Action Plan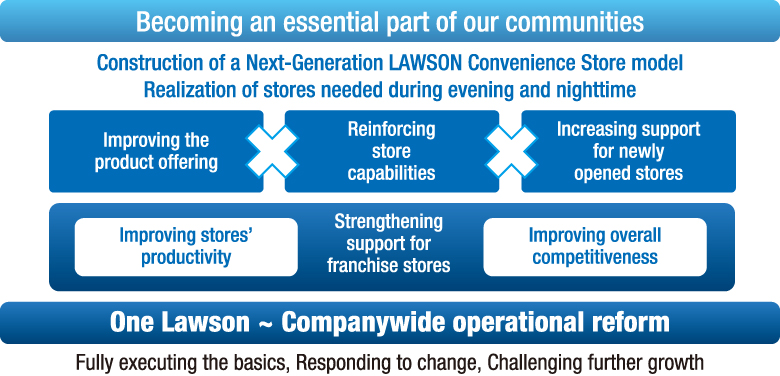 Other Contents

Lawson is not only a convenience store. We also have group companies including entertainment, media, ATM networks, and more.

Lawson regards its stakeholders as important and strives to maximize corporate value.

We strive to nurture human capital that thinks and acts autonomously.