News Release

[Reference Information] Ryohin Keikaku and Lawson to Sell MUJI Products at Lawson Stores Nationwide - Starts to Sell in Earnest in May 2022 and Sells at All Stores in 2023 -

Ryohin Keikaku Co., Ltd. (hereinafter "Ryohin Keikaku") and Lawson, Inc. (hereinafter "Lawson") will sell MUJI products in earnest at Lawson stores from Monday, May 2, 2022.

Details are as follows.

Details •Ryohin Keikaku and Lawson will increase the number of Lawson stores in the Kanto Koshinetsu region selling MUJI products to approximately 5,000 stores over a six-month period starting in May 2022. Subsequently, the companies will increase the number of stores stocking MUJI products to sell them nationwide. •They will place approximately 200 basic items* for everyday life on shelves with promotional materials for the items. They will discuss expanding the product lineup, considering the locations of stores and customers' requests.
*The main items will be lotions, stationery, socks, curry in a pouch, and confectionery. Ryohin Keikaku and Lawson have been selling MUJI products on a trial basis at Lawson stores since June 2020. They are selling MUJI products at about 110 stores in Tokyo, Chiba, and Saitama. We plan to sell MUJI products nationwide in 2023.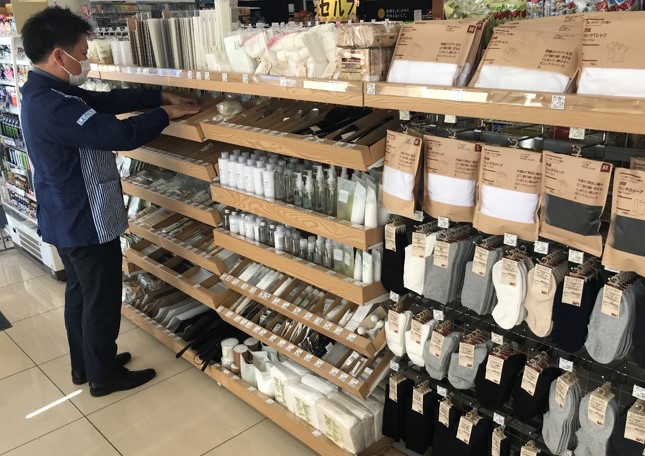 Background behind the introduction Ryohin Keikaku aims to distribute basic commodities and services at reasonable prices throughout the nation to achieve the "simple, pleasant life and society." The company positions its stores as local community centers and aims to contribute to the revitalization of communities. Lawson's Group Philosophy is "Creating Happiness and Harmony in Our Communities." Under this philosophy, Lawson aims to create a "hub of refreshment in every community," which provides new convenience for life within a community in consideration of social issues.
The companies have decided to sell MUJI products nationwide to implement their philosophy. They believe that selling MUJI products at Lawson stores nationwide will enable them to deliver useful, new value to customers throughout the nation. Ryohin Keikaku and Lawson will jointly develop private brand products and services and will expand activities that will be of help to communities and contribute to community revitalization.