ABOUT US

Our Business
Creating Happiness and Harmony in Our Communities
We reaffirmed our corporate philosophy, which is our starting point.
We will realize a state in which "whatever you want, whenever and wherever you need it" as the maximum contribution by a company that coexists with the local community.
Lawson believes that sustainable earnings growth and ongoing social contributions through our business are critically important.
Pursue our corporate philosophy "Creating Happiness and Harmony in Our Communities," build stronger relationships with customers, franchise owners, store crew (part-time and temporary workers), employees, and the community including the environment, and continuously improve the quality of our corporate governance.
We believe that these practices lead us to realize sustainable earnings growth and raise our corporate value.
The number of Stores in Japan
14,520
as of Dec. 2020
679
1,184
4,749
2,543
623
858
1,615
2,269
Oversea Business
Creating Happiness and Harmony in Our Communities
as of Dec. 2020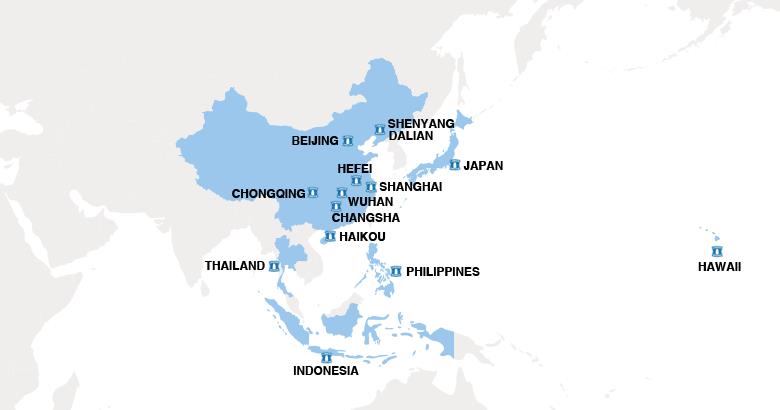 JAPAN 14,520 Stores
BEIJING 215 Stores
DALIAN 244 Stores
SHANGHAI 1,761 Stores
CHONGQING 333 Stores
SHENYANG 74 Stores
WUHAN 442 Stores
HEFEI 107 Stores
CHANGSHA 60 Stores
HAINAN 20 Stores
THAILAND 142 Stores
PHILIPPINES 64 Stores
INDONESIA 68 Stores
HAWAII 2 Stores
We export our accumulated know-how in Japan to other countries.
Overseas markets are a part of our "Communities."
Setting up of the Overseas Group
Close dialogues with local companies
Hiring of non-Japanese new graduates
Lawson's future investment targets are overseas markets
Overseas markets are also important. We export our know-how in small catchment area formats and franchise business that have been accumulated in Japan to other countries. I am convinced that our knowledge acquired in the fastest-aging country, Japan, will be a competitive edge when entering into other countries which will also face the challenge of an aging population in the future. Up to now, we have been rather cautious in expanding stores overseas due to three reasons. Profitless expansion impairs corporate value, overseas development imposes various risks, and overseas expansion results in low return. Going forward, we will accelerate our opening of stores in Asia, but do so based on our judgment that the time for this has arrived. In fiscal 2010, we opened stores in Chongqing, the largest commercial area in southwestern China, following our entry in Shanghai. In fiscal 2011, we plan to raise our equity share in our operation in Shanghai and spearhead efforts to rebuild store management and franchise models. In terms of human resources, non-Japanese were 30% of new hires from two years ago. We are thus strengthening our workforce. As for organization, we set up the Overseas Group in March 2011.