PRODUCTS & SERVICES

In-Store Services
Delivering Convenience and Comfort Every Day
Leveraging its nationwide network of stores, we seek to offer convenience in the form of essential services. We are also in the process of making our stores reliable and accessible to all customers.
Providing a Wide Range of Services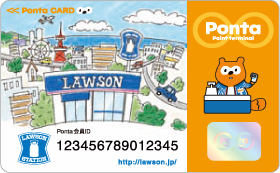 Ponta Card
Ponta Multi-Partner Loyalty Program
The Ponta multi-partner loyalty program was launched in March 2010, enabling customers to collect points at other Ponta partner outlets as well as ours when they shop. As well as one point being able to be used as 1 yen, a variety of special advantages will be offered in Lawson stores. Ponta provides us with a platform both for providing customers with greater convenience and for implementing joint sales promotions with other Ponta partners.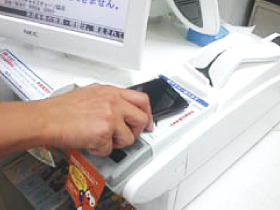 E-Payment Terminals
E-Payment Services
To enable a wider variety of payment methods and shorten checkout payment time, we have introduced e-payment services to almost all of our stores nationwide. In addition to iDTM*1, QUICPayTM*2, Edy*3 and Visa Touch (Smartplus)*4, all of which can be used nationwide, JR East Suica*5 and other major transport e-payment systems can be used in all regions except Shikoku.
*1. iD is a trademark of NTT DOCOMO, INC. *2. QUICPay is a system endorsed by the Mobile Payment Promotion Association (MOPPA). *3. Edy is a prepaid e-money service operated by bitWallet, Inc. *4. Visa Touch and Smartplus are non-contact e-payment services offered respectively by Visa International Inc. and Mitsubishi UFJ NICOS Co., Ltd. *5. Suica is a registered trademark of East Japan Railway Company.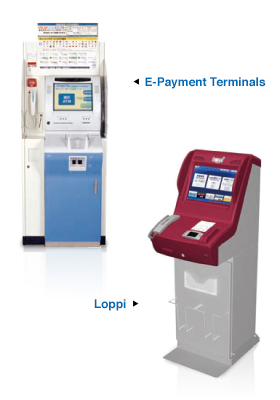 E-Payment Termnals / Loppi
Providing ATM Services
Lawson provides ATM services for cash withdrawals and balance inquires using the cash cards of japan's city banks, some regional banks and credit unions, and Japan Post Bank cards, as well as credit card company cash loans. As of May 31, 2011, Lawson operated 8,614 ATMs in 46 prefectures and had partnerships with 46 banks including all of japan's city banks, regional and Internet-only banks.
Providing a Wide Range of Services with "Loppi" Multimedia Terminals
Lawson stores are equipped with Loppi multimedia terminals that can be used for the reservation and purchase of concert and other event tickets handled by a consolidated subsidiary, Lawson Entertainment, inc., "toto" sports promotion lottery tickets and various transport tickets including highway bus. Also, advanced purchase of DVDs and gift items, and applications for certification tests are available.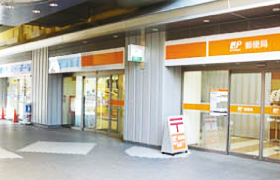 "Tokyo Dome City Post Office" and "Lawson Tokyo Dome City Store" opened in cooperation with Japan Post Holdings Co., Ltd.
Comprehensive Alliance with Japan Post Holdings Co., Ltd.
Under its comprehensive alliance with Japan Post Holdings Co., Ltd., Lawson is leveraging its nationwide network of stores to improve the convenience of postal services—an important component of social infrastructure—by equipping all of its stores with mailboxes, opening stores in post offices and post offices in some Lawson stores, cooperative opening of stores and other innovations.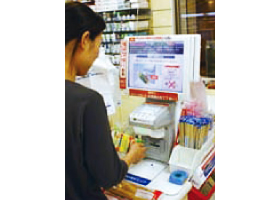 Self-checkout machine
We introduced self-checkout machines to ease the congestion
Self-checkout machines that help to reduce congestion during peak times in the morning and lunch time were introduced in June 2010, and as of the end of July 2011, 74 machines have been introduced to 46 Lawson stores. It is the first convenience store to accept a wide variety of cards for payment, such as credit card, electronic money and Ponta points.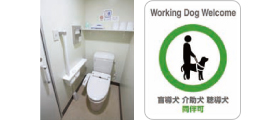 Barrier free Bathroom / Working Dog Welcome
Stores More Comfortable and More Accessible to All Customers
We are striving to make our stores completely barrier-free and accessible to all customers. All new stores have wheelchair-accessible entrances, and stores with car parks have a dedicated space for wheelchair users.
Also, store toilets are Western-style with handrails, and access has been improved with the removal of raised entrance thresholds. Guide dogs, service dogs, hearing dogs and other assistance dogs are welcome at all our stores.
We have also introduced shopping carts and large-print price tags at designated Lawson stores in an effort to make our stores user-friendly for elderly people.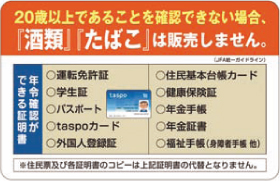 Notices of various kinds displayed in stores
Deterring Underage Drinking and Smoking
To prevent underage consumption of alcohol and tobacco, we use recorded voice guidance or other means at checkout counters to demand proof of age from all customers except for those who are clearly over the legal threshold. In addition to educating employees on a regular basis, we also display posters and make in-store announcements to heighten customers' awareness of this issue.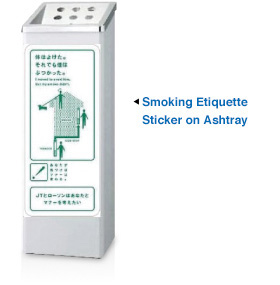 Encouraging Good Smoking Manners
The Lawson has established standards for the placement of storefront ashtrays. Where by laws prohibit smoking on sidewalks, we have as a rule removed ashtrays, and in other locations, we have repositioned ashtrays away from store entrances. We also take various measures, including the display of smoking etiquette stickers on ashtrays in cooperation with Japan Tobacco Inc., to raise awareness of the importance of observing good smoking.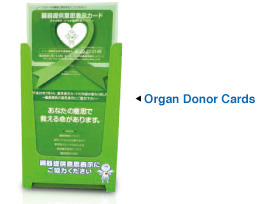 Display of Organ Donor Cards
To help promote organ transplants, since January 1999 we have displayed organ donor cards in all of our stores. We will continue to help promote organ transplants by using our neighborhood stores to raise awareness and prompt our customers to think about donating organs.