SUSTAINABILITY

Resource Saving
Reducing Plastic Shopping Bag and Disposable Chopstick Use
Reducing Unnecessary Plastic Shopping Bag Use
2.1% Reduction in Per-Store Plastic Shopping Bag Use by Weight since Fiscal 2017
We work to reduce the use of plastic shopping bags in our stores by having staff ask customers whether they need a bag, using in-store broadcasting, putting up posters, and handing out reusable "Bring Your Own" bags.

Participating in local municipalities' campaigns to reduce plastic shopping bag use, our efforts include handing out stickers that promote reduced use and encouraging the use of appropriately-sized bags when plastic shopping bags are used.

In fiscal 2019, the per-store use of plastic shopping bags (by weight) was 2.1% below that in fiscal 2017, and the plastic shopping bag handout rate* was 77.3%. We will continue to reduce the use of plastic shopping bags by, for example, proactively participating in local municipalities' campaigns to reduce plastic shopping bag use.

As part of the initiatives for environmental preservation, charging for plastic shopping bags has become mandatory since July 1, 2020. In response to this movement, Lawson strives to reduce plastic use by using plastic shopping bags made from plastic containing plant-derived materials by 30% as well as charging for them.

* Plastic shopping bag handout rate = Number of bags purchased by stores ÷ Number of customers
Weight of plastic shopping bags consumed per store*
* Excluding the data on LAWSON STORE 100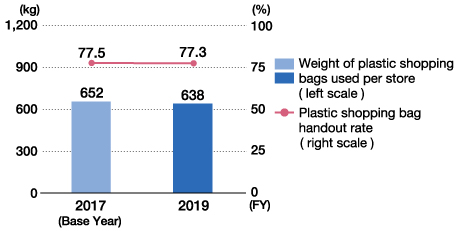 The plastic shopping bag consumption rate after July 1, 2020 (when charging for plastic shopping bags became mandatory) is 25% (as of the end of August 2020).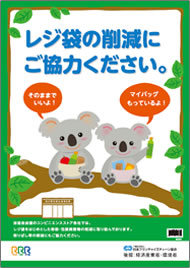 A plastic shopping bag reduction campaign poster posted in the stores
(Japan Franchise Association poster for member convenience stores)
"Bring Your Own Bag" Campaigns
5.41 Million Reusable Shopping Bags Distributed
Lawson makes Convenience Store Eco Bags to help reduce the use of plastic shopping bags. These reusable shopping bags are just the right size for the boxed meals and bottled drinks that customers buy frequently. In March 2007, we started handing out these bags in some LAWSON stores to promote our Bring Your Own Bag campaign. Later, we started selling the bags through Loppi multimedia information terminals.

We also promote penetration of the bags outside the company by releasing the bags' specifications and inviting other companies to collaborate.

We have distributed 5.41 million reusable shopping bags* since we introduced the initiative.

* Including reusable shopping bags other than our Convenience Store Eco Bags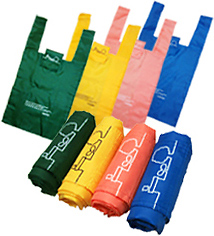 Convenience Store Eco Bags are the perfect size for a boxed meals and bottled drink
Reusable Shopping Bags Distributed
| | |
| --- | --- |
| Bags distributed at LAWSON stores and by Group companies | 4,695,000 |
| Bags created by cooperating companies and organizations | 711,000 |
| Total | 5,406,000 |
(As of the end of February 2020)
Reducing Unnecessary Disposable Chopstick Use
Working With Customers to Reduce Disposable Chopstick Use
LAWSON store crews ask customers whether they would like disposable chopsticks at checkout to avoid unnecessary distribution. We also use in-store announcements to ask for customer cooperation in saving both plastic shopping bags and disposable chopsticks.

We believe direct communication with our customers is the most effective way to reduce waste and will continue these efforts going forward.
The Number of Disposable Chopsticks Used per Store