SUSTAINABILITY

Corporate Governance
Risk Management
Preparing for and Responding to Risks
Risks identified by Lawson
1. Risks related to changes in the business environment
2. Risks related to food safety, hygiene management and labeling
3. Risks related to the handling of personal information
4. Legal and regulatory risks
5. Risks related to franchise operations
6. Risks related to disasters
7. Risks related to problems with IT systems
8. Risks related to sharp rises in raw materials prices
To find out more, please refer to the Integrated Report posted on the Lawson website.
Responses to Emergencies
Lawson places particular emphasis on "food safety and hygiene management," "information security" and "disaster relief," and it has prepared a structure for responding to emergencies and resolving problems rapidly.
Meetings of the Compliance & Risk Management Committee and the Information Security Committee as well as of the five subcommittees are convened under ordinary circumstances to assess risks and to formulate and promote measures to avoid them and prevent their occurrence.
Should a serious risk situation arise, an Emergency Risk Management Committee is organized to resolve issues swiftly and minimize damage. Once the problems have been resolved, the Company analyzes the factors contributing to the occurrence and reviews and improves the relevant measures to prevent any recurrence.
We are reinforcing our emergency response capabilities, moreover, through efforts such as formulating the Business Continuity Plan (BCP) and implementing disaster mitigation measures. Our aim is to institute a business continuity (BC) framework that prevents interruption of important business activities, even when emergencies involving serious damage occur.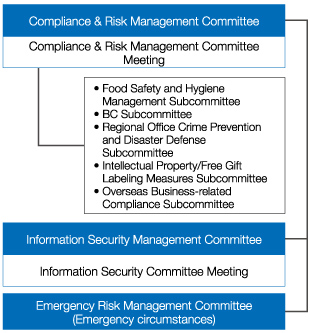 Improvement of the Information Security Framework
The "Lawson Group Personal Information Protection Policy" has been formulated to promote protection of personal information. To ensure that the relevant personnel understand specific details of the contents and are prepared to implement them, the Company publishes potential mistakes and complaints that may arise at the stores, accompanied by practical responses to them, in various manuals produced for the stores in an effort to raise awareness. Headquarters employees are tested periodically to ensure that they are all reliably following the rules based on the "Lawson Office Security Rules," in which matters to be observed are compiled.
We have established a system for specifying methods of gathering and storing information as well as information storage periods and for designating persons responsible for handling customers' valuable information in each instance after advance checking by specialist departments.
When consigning responsibility for handling personal information to outside organizations, we require that a detailed investigation of the organization's security framework be conducted in advance and that consignment of the responsibility be made only to organizations that satisfy Lawson's conditions.
An onsite or documented inspection is conducted annually, moreover, to ensure that the conditions are maintained.
We are also evaluating our information security framework from a variety of other perspectives to ensure that it remains robust by implementing information security audits by our internal audit departments and employing specialized outside companies to carry out surveys of office security and diagnose any vulnerabilities in our information systems.
Crime Prevention at Stores
We conduct education to ensure that store personnel act with the highest priority placed on personal safety and with crime prevention in mind, in ways such as greeting customers in a cheerful and spirited manner. In addition to the following measures implemented by headquarters, we are cooperating with the police and the Japan Franchise Association in efforts to prevent crimes against the convenience store industry as a whole.
Actions taken as crime prevention measures
Promotion of security camera installation


Security cameras are installed at every store to discourage potential perpetrators from committing crimes and to support investigations that may lead to the arrest of perpetrators in the unlikely event an incident should occur.
We have upgraded to a digital security camera system, moreover, which provides sharper images and improved recording capabilities.

Creation of an environment for store crew education


Reminders to raise awareness of crime prevention are distributed for display on POS cash registers and store computers, and crime prevention DVDs are also delivered to stores for use in educating their store crew members. Various tools and manuals, such as crime prevention self-check lists, have also been prepared.

Enhancing guidance provision during patrols


In addition to the regular store patrols, we also provide crime prevention support for stores during late-night and crime prevention patrols to raise awareness together with franchise stores.

Conducting crime prevention drills


Employees are trained under police direction in methods of responding to robberies, including throwing of anti-crime color paintballs. In recent years, we have also been conducting special fraud prevention drills.