SUSTAINABILITY

Corporate Governance
Assuring Continuity of Business Operations
Fundamental Policies and Objectives for Maintaining BC
Interruption of important business activities shall be avoided, even when emergency situations involving serious damage occur, while maintaining a priority on securing people's safety and wellbeing. Even if business operations are unavoidably interrupted, critical functions shall be resumed quickly in order to avoid undermining our customers' satisfaction or corporate value.
Three main goals for maintaining BC
●Fulfilling Lawson's mission as a "community lifeline"
We will endeavor to ensure uninterrupted provision of products and services to customers by keeping stores open whenever possible.
● Continuation of the franchise business
We will determine specific periods and methods for resuming operations and maintain the requisite level of franchise headquarters operations.
● Securing appropriate earnings
We have implemented measures in consideration of the impact emergencies could exert on earnings and of social conditions in order to secure an appropriate level of earnings necessary to the Company's survival.
Practical procedures are compiled in the BCP, and we are pursuing efforts to establish a BC framework in line with the BCP, and to sustain and enhance it, as important issues for management.
Mechanism for Enhancing BC Capabilities
Activities conducted to improve response capabilities are essential for sustaining a corporate climate adapted to responding sensitively to a variety of crises. Lawson is continually reviewing such business components as "hardware" factors involving office buildings and lifelines, "software" factors involving its BCP and manuals, and "skills" factors involving employees and franchise stores. The Company uses its findings to implement improvements in crisis response capabilities throughout the Group.
Formulation of the Disaster Relief Manual and BCP Guidelines

Lawson has formulated the "Disaster Relief Manual" defining the approach toward disaster relief and the standard of conduct of the organization and its employees in the event of a disaster. There are different versions of the manual, "Concept of Operations," "Initial Actions," and "Response and Recovery Actions," in which the response rules and procedures for measures according to the disaster level for all employees and the entire organization are described.

Additionally, in the event of a major incident impacting the headquarters operations, to ensure the continuance of important business activities as the franchise headquarters, we have formulated the "BCP manual" defining the organization's standard of conduct. The BCP manual describes the operating procedures, and new strains of influenza, etc., in the occurrence of the Tokyo Inland Earthquake.
Cooperation with Local Governments at Times of Disaster
In its capacity as a community lifeline, Lawson is making progress toward concluding agreements with local governments concerning cooperation in the provision of goods and assistance to stranded commuters in times of disaster.
Entities concluding agreements on provision of goods in times of disasters*
●Local governments: 47 prefectures, 23 cities and wards
●Mass transit systems: 11
●Electric power companies: 4
●Others: Tokyo Fire Department and Japan Ground Self-Defense Force, fuel companies
Entities concluding agreements on assistance to stranded commuters*
●Local governments: 43 prefectures, 10 ordinance designated cities
* As of June 1, 2021
"Resilience Certification"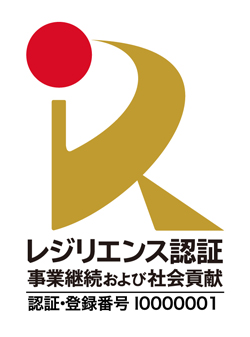 Lawson is certified as an enterprise that contributes to the building of national resilience against disasters.
In accordance with the "Guidelines relating to certification of groups contributing to the building of national resilience against disasters" established by the National Resilience Promotion Office, Cabinet Secretariat in February 2016, Lawson was recognized by the Association for Resilience Japan as the first convenience store to contribute to the building of national resilience against disasters.