CORPORATE SOCIAL RESPONSIBILITY

Waste Reduction
Reusing Fixtures and Equipment
Some of the display cases, air conditioners, microwaves, and other fixtures and equipment removed from stores that are being remodeled or closed are reused in other, newly opened stores.

When we refurbish or close a store, we keep its fixtures and equipment that meet a certain standard in our reuse centers. After cleaning and maintenance, we reuse them for refurbished or new stores. One reuse center is located in western Japan and the other in eastern Japan. All fixtures and equipment are numbered for identification to enable effective reuse in the stores regardless of their location.
Fixture and Equipment Reuse Flow

Fixtures and Equipment Reused
Refrigerators, air conditioners, fast food fryers, microwave ovens, magazine and newspaper racks, store signage, security cameras
Fryer
Microwave oven
Magazine rack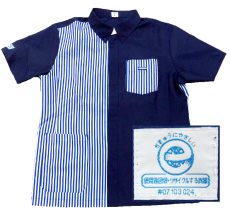 Uniform made from PET (bottle) recycled fibers
Uniform Recycling
Lawson uniforms worn by store crews are chemically recyclable, and can be turned into raw materials for plastic products or energy generation. Chemical recycling involves decomposition and reconstitution at a molecular level and produces very little waste. Recycling of Lawson uniforms is accomplished by pyrolysis, which, conducted in the absence of oxygen, generates no CO2, making it an environmentally friendly recycling process.