Lawson, Inc. (Lawson) announces new measures on the basis that Lawson regards the continuing stable operation of franchise stores as an important issue, given the fact that some franchise stores are facing difficult management because of recent changes in business environment. Lawson will build stronger partnerships with franchise stores by implementing short-, mid- and long-term initiatives including support for low-profit stores, measures to encourage multiple store operation, and measures for new franchise owners. In the retail industry, social changes are taking place along with the declining population, such as fiercer competition for the shrinking market and rising personnel expenses due to labor shortages. Lawson has been instituting measures for store relocation (transfer to other stores) for franchise stores facing difficult management. In addition, Lawson has been focusing on measures to encourage multiple store operation, regarding the local dominance of franchise stores through multiple store operation as an important strategy for stabilizing their management. In terms of total store numbers, 72% of stores currently operate multiple stores. Looking at franchise store numbers, on the other hand, 58% of them operate a single store. Lawson will implement measures to further encourage multiple store operation. Specifically, Lawson has established monetary support for franchise stores operating a single store with low profit and an educational and training system to encourage the shift to multiple store operation. Lawson will also change the way in which a contract for a new property is made. While in the past, Lawson obtained consent from a franchise store owner that would operate a store after the headquarters made a contract for a property, Lawson will first obtain consent from a franchise store owner after the headquarters has selected a property and then make a contract solely for the property for which the franchise store owner has given its consent. In addition, while new franchise owners were supposed to operate a new store, there was a difference between the expected daily sales and the actual daily sales after they opened the store. To resolve this difference, Lawson has decided to have owners operate an existing store (a company-operated store or a franchise store which former owner has left). This prevents any difference from the expected daily sales from arising and eliminates the need to recruit new store crew. Lawson will also establish a new package for a five-year contract. In addition, Lawson will change the company-wide management target from sales to franchise store profits. 1.Support for franchise stores facing difficult management with a single store (short-term strategy)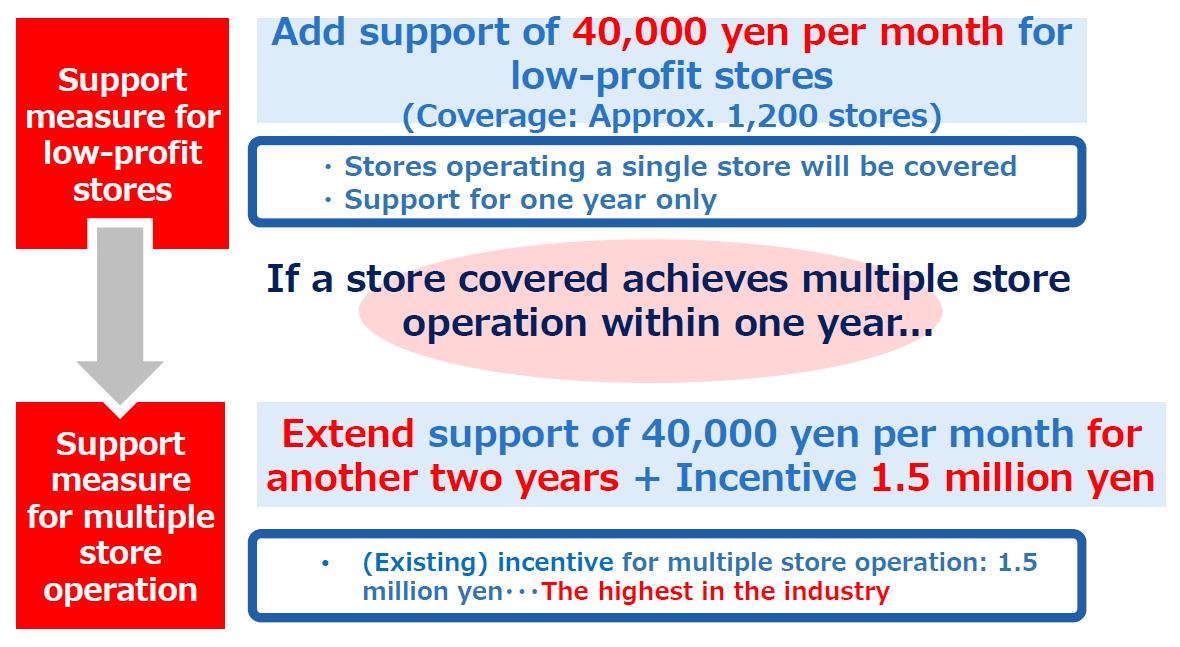 2. Support training for store manager (short-term strategy)
For multiple store operation, the employees (trainers) at the headquarters will provide direct support for training the store managers at the stores.
3. Operate existing stores by new franchise owners (mid- and long-term strategy)
We will allocate existing stores to new franchise owners. This will alleviate their concerns about sales and reduce their burdens in terms of recruitment costs and training because they will be able to figure out sales in advance and commence the store operation with existing crews.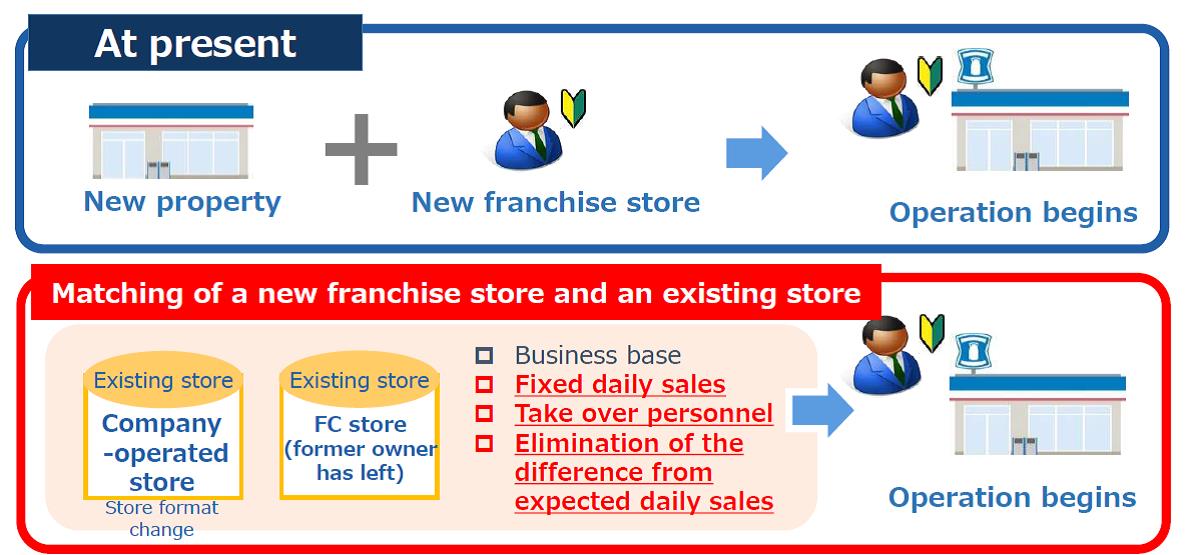 4. Change of contracts for new stores (mid- and long-term strategy)
New store openings will be based on the judgment of both the headquarters and an existing franchise store (a contract for a property is made after the existing franchise store owner gives its consent).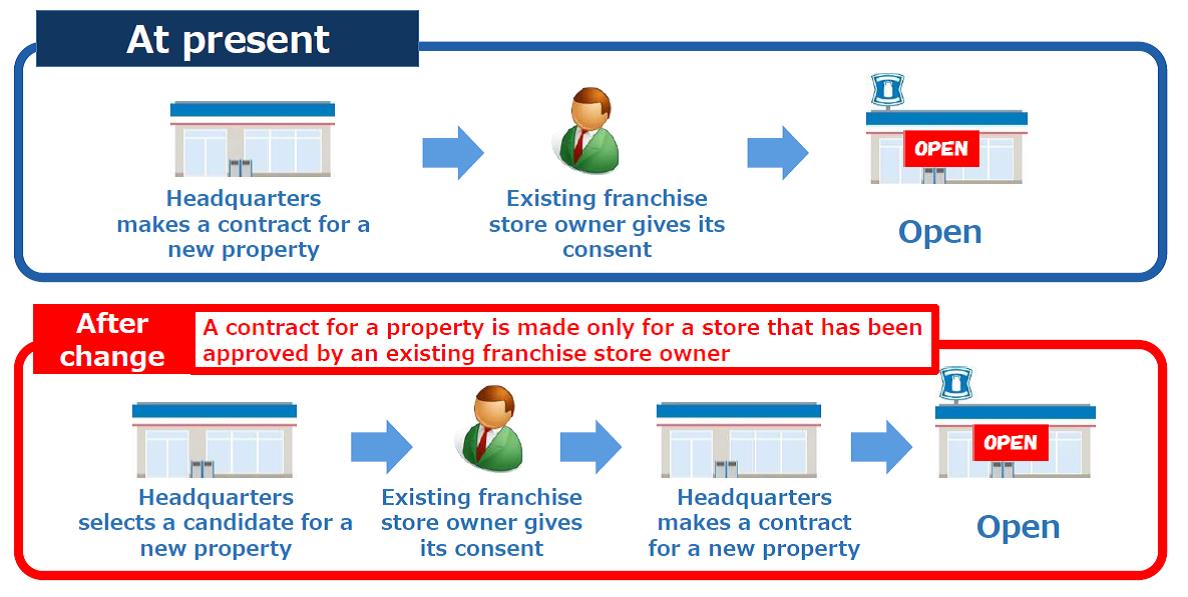 5. New package for a five-year contract
For those who are anxious about a 10-year franchise contract, we will establish a new package for a five-year contract. This is a selective system. (The new package is due to begin by the end of FY2020.)
6. Change of the headquarters' management target to store profits
For the headquarters to stick to the profits of franchise stores and work on their operation more responsibly than ever, we will change the company-wide management target from sales to franchise store profits and aim to achieve an increase of 10% in store profits year on year (the estimated increase in store profits for the current fiscal year is 5%). We will also change the KPI for the bonuses of all employees to store profits.
7. New owner support system
By allocating approximately 100 employees at seven locations nationwide, Lawson will support franchise owners in terms of taking leave.
8. Strengthening of existing measures
(1) Lawson provides a non-24h contract package that franchise stores can select freely and will continue to take measures flexibly in response to their requests. (2) In the current fiscal year, Lawson conducted experiment tests for the New Year's Day store closures and midnight unmanned stores. By further advancing the verification of these tests, we will proceed with experiment tests and verification to reduce the burdens of franchise stores. (3) Lawson has been leaving the sale (discount sale) of clearance goods up to franchise stores, and the system and price tags are also available. Since Lawson regards this as one of the measures for improving franchise store profits through the reduction of food loss and disposal loss, Lawson will further promote this initiative. The headquarters will provide support with the aim of expanding this effort. (4) Lawson will further promote labor savings in store operation by utilizing technologies. (5) For dialogues with franchise stores, Lawson has been using a range of communication tools including the Lawson Owner Welfare Association, Area Meetings and MO General Meetings (for multiple store management). In the current fiscal year, Lawson has established three new owner hotlines as a consultation point of contact. Lawson will enhance our dialogues with franchise stores by further promoting these efforts.