A huge amount of food that is still good to eat is dumped (food loss), causing controversy of food waste problems both in Japan and all over the world. According to the Ministry of the Environment, the total amount of food waste was approx. 25.5 million tons in FY 2017, approx. 6.12 million tons of which came from food loss. The Act on Promoting Food Loss Reduction (Food Loss Reduction Promotion Act) was put in force on October 1, 2019, and nationwide initiatives to further reduce food loss and waste are aggressively conducted.
"Halving the per capita of global food waste by 2030" is specified as the target for food loss and waste reduction in Goal 12 (SDGs): "Responsible Consumption and Production."
Lawson regards food loss and waste reduction as a very important issue and strives to reduce food waste by means of "Curbing Waste Generation" combined with "Recycling."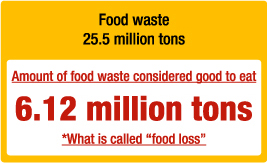 Since August 2019, Lawson has periodically donated to the Japan Food Bank Promotion Group original sweet products, processed foods, etc., that missed the delivery deadlines to stores. This is conducted as part of our initiatives to support families and facilities requiring food aid and to reduce food waste. As of the end of April 2020, the number of products that we have donated is approx. 155,000 in total. The donated products are delivered to food bank bodies across Japan, from which they are provided to families who need food aid, children's cafeterias, orphanages, facilities for the disabled, etc.
With COVID-19 spreading, the number of families and facilities that need food aid increased due to the cancellation of school lunch services and a decrease in income in April 2020. Under such circumstances, we donated approx. 72,000 foods in total, which are chosen from 18 food product lines to the Japan Food Bank Promotion Group in cooperation with Mitsubishi Shokuhin Co., Ltd. from April 29 to May 7, 2020.
[The Japan Food Bank Promotion Group]
The Japan Food Bank Promotion Group was established in pursuit of society without child poverty problems in 2015 and strives to reduce food waste through its activities as a food bank. There are 38 affiliated bodies conducting various activities throughout Japan, from Hokkaido to Kyushu, including Amami Oshima (as of the end of April 2020).
●Correlation Diagram of Surplus Food Donation

●Examples of donated products



As for products donated in April 2020, we expanded the scope to add some products not missing the delivery deadlines, and as a result, we could increase the number of donated products per delivery.